HELLO NEIGHBORS!
Thanks to everyone who showed up on Saturday morning to find out what BUILD was planning for their India Basin development.
We really look forward to seeing you all at our next monthly meeting on Saturday January 7th, so we can get your feedback on the planned development.
Now get ready for…
IBNA/BRITE Holiday Party!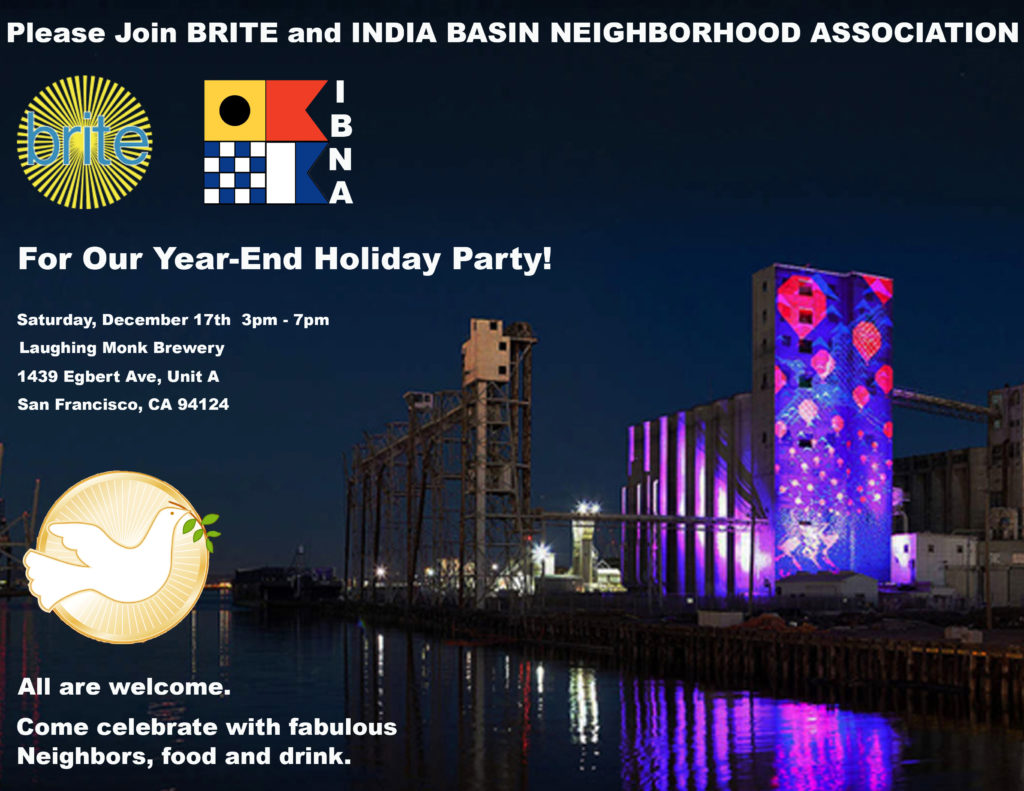 About Us
In response to PG&E's plans to build a second power plant in our neighborhood, the Innes Avenue Coalition was formed in November, 1994. Then two-years later in 1996, The Friends of India Basin came together as a park stewardship organization for the Shoreline Park. By 2000, the groups merged to form the India Basin Neighborhood Association. Since then we have fought to keep what is great about India Basin, the natural beauty and open space.
The history of India Basin is a curious combination of industry and open space, business and pleasure. The name India Basin first appeared on a map in 1868, but theories as to its origin remain murky. The Most Unexceptional guess is that India Basin is named for the ships from the India Rice Mill Company, which docked there in the 19th century. A more creative explanation has it that it was so named because water from nearby springs would stay fresh until a ship reached India.
Check us out and "Like" us on Facebook.
Affiliations
IBNA holds official seats on:
Citizens Advisory Committee to the Bayview Hunters Point Neighborhood (CAC)
and belongs to:
Bayview Neighborhood Council
Eastern Waterfront Neighborhood Coalition
IBNA members advise citywide on: