IBNA Annual General Meeting!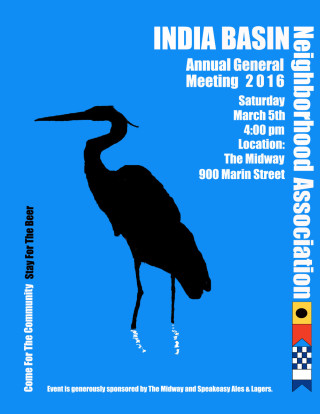 Your first drink is on us when you renew or join IBNA for the first time. Individuals are $20, family membership is $30 and a business membership is $50.  Donations of any amount above the stated dues are greatly appreciated and encouraged. We will also have appetizers and all ages are welcome to this event. Current IBNA members will vote for the three board seats that are up for election.
Please RSVP with the number of people in your party: Tori Freeman – toridragon@gmail.com
Spread the word.
This event is generously sponsored by:
Save The Date: 2016 Spring Egg Hunt, March 26, 11 a.m. 
About Us
The Innes Avenue Coalition was formed in November, 1994, in response to plans to build a second power plant in our neighborhood. The Friends of India Basin was formed in 1996 as a park stewardship organization. In 2000, the groups merged to form the India Basin Neighborhood Association.
The history of India Basin is a curious combination of industry and open space, business and pleasure. The name India Basin first appeared on a map in 1868, but theories as to its origin remain murky. The Most Unexceptional guess is that India Basin is named for the ships from the India Rice Mill Company, which docked there in the 19th century. A more creative explanation has it that it was so named because water from nearby springs would stay fresh until a ship reached India.
Check us out and "Like" us on Facebook.
Affiliations
IBNA holds official seats on:
Citizens Advisory Committee to the Bayview Hunters Point Neighborhood (CAC)
and belongs to:
Bayview Neighborhood Council
Eastern Waterfront Neighborhood Coalition
IBNA members advise citywide on: