The land between Innes Avenue east toward Galvez Avenue is known as Block 1 of Parcel A of the Hunters Point Shipyard. Ownership of Parcel A has transferred from the U.S. Navy to the City of San Francisco. Development rights for Block 1 were won by the Tabernacle Group, a community-based group, to create a mixed residential and commercial project.
Galvez Avenue was the driveway that led to the much-missed Dago Mary's Restaurant. The IBNA Community Vision calls for Galvez to become the designated Class 1 Bike Path. The land from Galvez to the Bay is a portion of Parcel B of the Hunters Point Shipyard and remains under U.S. Navy ownership. Once transferred to the City of San Francisco, it is designated to become a public park, with the working name of Northside Park. The 100 feet closest to the water will become a piece of the regional Bay Trail.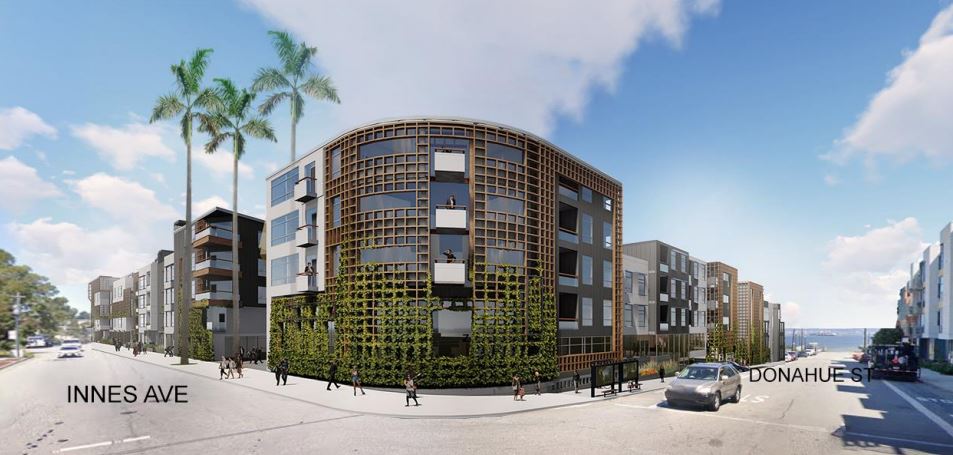 Called Palmilia by the Bay, the project will be made up of:
224 total residential units, 24 of which are below market rate
Maximum Height of 55 feet
20,000 square feet commercial space intended for a grocery anchor tenant and neighborhood commercial retail
270 off-street parking places
IBNA Concerns on Block 1 aka Palmilia by the Bay: When meeting with the Palmilia design team in July 2020, IBNA advocated for the following:
Continuing the Class 1 Bike Path through the property to connect from the Build, Inc property, directly next door, into the Shipyard
Keeping clear visual connections between the street and the open space so that this project does not create a wall to the existing community
Unit sizes that encourage family homes
Saving the palm trees
Carefully designing the rooftops as it will impact everyone living uphill from the site
Update October 2020: As presented at the October 19 Citizens Advisory Committee meeting, construction of Palmilia by the Bay is scheduled to begin in November 2021 and completed in February 2023.
Learn more (and see lots of images as well as adjustments made based on IBNA and other community input): https://hpscac.net/wp-content/uploads/2020/10/201019-Palmilia-presentation-CAC-r2.pdf
IBNA is closely following the Block 1 project and will advise members of updates and opportunities for public input.
Questions or Additions
The India Basin Neighborhood Association welcomes questions, corrections, or additions about any of the projects mentioned here: Use the Contact Form