Art on Innes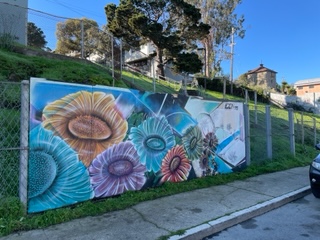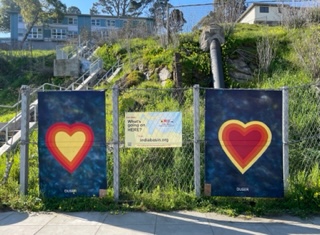 Several panels of a new IBNA project, Art on Innes, have been installed on Innes Avenue near Arelious Walker Street. These murals are a recycling project from Paint the Void, which commissioned local artists to create art on the plywood that was covering retail and restaurant windows during lock down. Now that San Francisco is opening up, some of the mural panels needed new homes. Board member and gallery owner Max Khusid learned of the need and suggested there are fences along Innes that could use some love.
Thanks to support from CEMEX, our Art on Innes project will eventually include installing many more panels along the Avenue as well plaques acknowledging the artists and donors.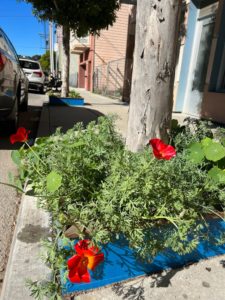 A second part of Art on Innes is installation of planters around the street trees along the thoroughfare. Three planters been completed with about 37 to go! Completing this project involves financial and volunteer support from our India Basin community. The planters will eventually contain plants and plaques acknowledging the donors.
Sponsorship opportunities and installation party dates for murals and planters are announced in the IBNA newsletter and via Facebook. Meanwhile, slow down and enjoy the art!
700 Innes Project
In 2014 San Francisco developer Build, Inc purchased about 15 acres of mainly open lots on the south edge of India Basin, on either side of Arelious Walker Street (formerly known as Fitch Street). Together with the India Basin Neighborhood Association (IBNA) and the San Francisco Recreation and Parks Department (RPD), Build, Inc has embarked on a long journey to transform a semi-wild former gravel yard into an urban village.
IBNA asked for a pedestrian-first, human-scaled, bicycle-friendly, residential village where neighborhood amenities are within a short walk following the goals of our 2010 Community Vision. Much more than a development venture or park expansion, this innovative Public-Private Partnership advances the City's and community's aspirations for new housing and jobs, sea-level rise shoreline adaptation, enhanced waterfront access, expanded recreation space, public art and vital community services.
Generally called the 700 Innes project, Build, Inc has received planning approval for a mixed-use development to include a mixed-use urban village made up of:
1,575 residential units (over 30% affordable)
200,000 square feet of commercial space including a public market
A public library
Child care center
Approximately 6.5 acres of publicly accessible open space connecting to existing park spaces
Up to 1,800 parking spaces
Public art program
Running through the development is a Class 1 Bike Path connecting to the Blue Greenway and Bay Trail networks.
IBNA Supports 700 Innes Project, with Conditions: On July 25, 2018, representatives from IBNA and Build, Inc signed an agreement signifying the shared goals for revitalizing the India Basin community by creating a 21st century village for all San Francisco to enjoy through the development of the 700 Innes project: https://www.indiabasin.org/wp-content/uploads/2022/06/IBNA-and-Build-Agreement-SIGNED.pdf
Update 2022: Build, Inc has obtained permits and approvals from myriad agencies and is designing the infrastructure as the site will need completely new water, sewer, power, and other utility systems. Construction is expected to begin in Fall 2022.
Build, Inc. presentation to IBNA, May 2022: https://www.indiabasin.org/wp-content/uploads/2022/06/May-2022-IBNA-Meeting.pdf
Learn more: https://www.indiabasinsf.com/
Questions or Additions
The India Basin Neighborhood Association welcomes questions, corrections, or additions about any of the projects mentioned here: Use the Contact Form