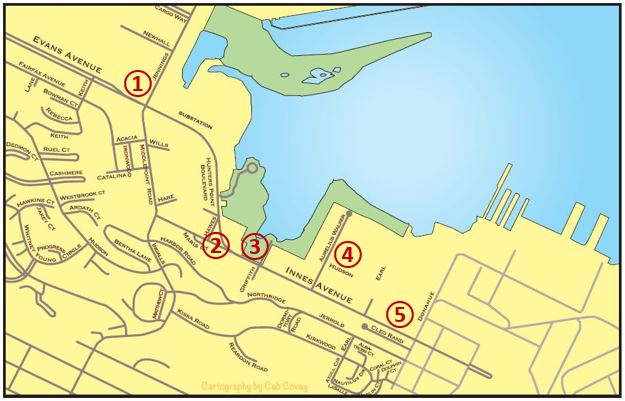 Traveling through India Basin can be deceiving. The multiple empty lots make it seem that nothing much is happening in the neighborhood. The truth is that behind the scenes multiple areas are in various stages of change, including the five presented here.
Volunteers from the India Basin Neighborhood Association are doing their best to stay informed and provide input on all the projects. This page will be updated as information changes. IBNA continuously advocates for a livable neighborhood, with a range of housing sizes and styles, and the amenities and services that other San Francisco neighborhoods enjoy. IBNA welcomes responsible development, while trying to maintain the charm that makes India Basin special: the waterfront access, rich history, arts-friendly vibe, and mixed-use ambiance. When providing input into projects, IBNA goals remain those presented in the 2010 Community Vision:
Comprehensive Planning
Economic Success
Environmental Protections
Transportation Improvements
Recreational Opportunities
① Evans Avenue at Jennings Street and Middle Point Street
One of IBNA's first projects was to successfully petition for stop signs at the intersection Evans, Middle Point, and Jennings, which transformed a dangerous no-way stop into a safer four-way stop. Soon, signals will replace the stop signs in anticipation of continuing population growth throughout India Basin.
Substation Relocation
The Pacific Gas & Electric power plant at Hunters Point was located on 30 acres surrounding the intersection at the heart of India Basin. Opened in 1929 as a coal-burning plant, it was later converted to natural gas. When it closed in 2006, it was one of the most polluting power plants in America. The transformer substation that serves the southeast quadrant of San Francisco remains. In anticipation of future waterfront development, PG&E plans to relocate the transformer station across Jennings Street to the lot next to White Cap Building Materials.
To help integrate the substation into the community, PG&E has hired the award-winning Mexico City architect and community designer Tatiana Bilbao. Her design philosophy is based on the French philosopher Emmanuel Levinas and his work on the ethics of 'the other.' Bilbao practices this deep-seated philosophy as a moral compulsion to make architecture that puts the human subject first.
Bilbao describes the project as, "An exercise in the search for habitat, for place. Our main objective was to transform and merge a reality of industrialization with a dream of a shared community living."
To this she distilled her plan into a "wheel of life," a visual that allows her to categorize and understand the co-relationship between activities that we usually see as "compartmentalized entities," or as separate, like a power transfer station and a residential development, or restaurant. She also conceptualized what she calls "the four pillars of the program." These include; living, knowledge, production and strength.
IBNA has provided initial feedback on the substation project, requesting:
A generous set-back from the sidewalk
A plaza for an anticipated transit hub
Greenery
Careful night lighting
Public art
While the waterfront portion of this project is not yet being earnestly considered, as of 2020, the substation project is still moving forward. IBNA carefully considered ideas for Jennings Street and the waterfront land in the 2010 Community Vision. IBNA will update this page as PG&E releases more information.
Learn more: http://www.futurehunterspoint.com/
Learn more: https://tatianabilbao.com/projects/hunters-point-masterplan
IBNA is closely following the substation relocation project and will advise members of updates and opportunities for public input.
Hunters View
The original Hunters View was constructed in 1957 with 267 temporary units on either side of Middle Point from Evans uphill to Innes Avenue. These units were never intended to be permanent housing, and due to the poor initial construction of the site and years of deferred construction, the property deteriorated well beyond repair.
The renewed Hunters View is the result of a partnership between the Office of Community Investment and Infrastructure (OCII), HOPE SF, the Mayor's Office of Housing and Community Development (MOHCD), the San Francisco Housing Authority (SFHA), and the John Stewart Company. It will be completed in three phases. No existing residents were displaced as a result of this multi-phased development. Phase 1 was completed in 2013 and Phase 2 in 2017. All Hunters View residents who lived onsite now live in Phases 1 and 2.
Due to break ground in 2020, Hunters View Phase III Affordable Housing (HVIII) is the final piece of the master-planned redevelopment of the Hunters View public housing community. This phase encompasses three parcels, including 109 new affordable homes, a new public park, and amenities that will serve the larger community.
Learn more: https://huntersview.info/the-project/
② Hunters Point Boulevard near Innes Avenue
The Triangle
There is a vacant, wildflower-covered triangular lot bounded by Hawes Street, Innes Avenue, and Hunters Point Boulevard made of three parcels:
Not much public information exists about The Triangle prior to 1989. Early photos seem to indicate that the curve formed by Hunter's Point Boulevard turning onto Innes Avenue did not exist, meaning that the triangle didn't exist either. The general understanding is that in the 1940's Innes and Hunters Point Boulevard were widened, and the corner turned into a curve in stead of a left turn in order to accommodate the thousands of shift workers at the Hunters Point Shipyard, traveling through the community daily. According to neighborhood lore, during the heyday of Shipyard activity, from about 1940 to 1980, the triangle contained a gas station and convenience store. IBNA welcomes photos and stories about the history of The Triangle and The Curve.
According to realtor.com, Wallace and Janet Baldwin purchased the properties in 1989 for $130,000. In 2008, a Mechanic's Lien – or guarantee of payment to builders for work to be done – was registered on the property in favor of US Concrete Precast Group; the guarantor was Jamestown Condos and Jamestown Equity Partners LLC. As far as we can tell, the work was never done. During this time, the properties were owned by The Baldwin Family Trust—this trust took over the deed to the properties in 2003 from Wallace and Janet Baldwin.
And the Assessor's office notes that the property was last sold on March 15, 2013, to Raul and Denise Arriaza for $375,000. Mr. Arriaza is a San Francisco realtor. According to the FY2017 Secured Property Tax Rolls, the value of all three parcels together for tax purposes is about $461,000, costing the owners over $25,000 in taxes since 2013.
IBNA's efforts to connect with the current owner to learn about any plans for 'The Triangle' have been unsuccessful.
The Curve
In response to IBNA request to make our neighborhood streets safer, SFMTA plans to execute a "Quick Build" project around the curve along Hunter's Point Boulevard between Evans and Innes. As noted by SFMTA in the Bayview Quick-Build Factsheet of April 2020 about the Evans, Hunters Point Boulevard, and Innes Avenue corridor, "over the past five years there have been 22 reported traffic collisions that resulted in injury. In October 2019, a traffic collision on Evans Avenue resulted in a fatality. Unsafe speeds, turns, or lane changes accounted for 60% of injury collisions along the project area. Quick-build projects aim to reduce the risk of traffic-related injuries or deaths."
The current plan is to install Safe Hit Posts in the center of the road all along the S-curve. Safe Hit Posts make a flexible barrier. SFMTA's timeline for this project is "Spring – Winter 2020".
Learn more: https://www.sfmta.com/projects/bayview-quick-build-transportation-projects
IBNA is closely following the Quick-Build project and will advise members of updates and opportunities for public input.
③ Innes Avenue and Griffith Street
Since 2014, the San Francisco Recreation and Park Department has owned the Historic Boatyard east of Innes and Griffith: 1.5 acres of waterfront land, an additional 1.83 acres underwater, and the Shipwright's Cottage at 900 Innes. IBNA has a long commitment to the Historic Boatyard and 900 Innes becoming a park. In 1999 IBNA members conceived a large a waterfront park in our community as part of the Recreation and Parks Department "Dream Park" planning process and has continued to lead the effort to make the Shipwrights Cottage San Francisco Landmark #250, acquire the Historic Boatyard, and develop the park ever since.
The land is undergoing two processes, environmental cleanup and park design.
Environmental Cleanup of Historic Boatyard
Pending approvals from various government agencies, environmental cleanup is set to begin in Summer 2020 and will last several months. The project involves removing all wharves and structures except the Shipwright's Cottage and contaminated soils and sediment across the site to meet Water Board- and EPA-approved cleanup targets, backfilling the site with clean soil and sediment, capping two mudflat areas with sand, and constructing an interim public access pathway. Approximately 2,500 truck trips are planned to remove and replace these materials and soil. The estimated cost is $7,000,000.
Learn more about the environmental cleanup: https://www.bcdc.ca.gov/cm/2020/0416-San-Francisco-Recreation-Parks-India-Basin-Remediation-2019.003.00.pdf
IBNA Concerns on Environmental Cleanup: IBNA has questioned RPD about some aspects of their environmental cleanup plan and will report to the community if they respond:
Could RPD use barges rather than trucks to move some of the materials in and out of the site? Neighbors are especially concerned about the noise, pollution, and traffic safety impact from the estimated 2,500 truck trips in and out of the site during this cleanup.
What impacts will there be on the adjacent community during this construction? Can RPD provide information about work hours; transportation routes if not all materials can be moved via barge; air-quality and noise impacts on nearby businesses and homes; any street closures or parking restrictions; and any use restrictions on the adjacent India Basin Shoreline Park, India Basin Open Space, and the Bay (for example for boating or fishing).
How is RPD dealing with the utility poles (and lines) currently on site? There are utility poles on the site along Hudson Street and utility poles and lines along Innes Avenue adjacent to the park land.
Park Design of Historic Boatyard
The historic boatyard at 900 Innes is not just any park land. Once the centerpiece of wooden boatbuilding in Northern California, this boatyard specialized in scow schooners. In the days before trucks and bridges, scow schooners were vital for taking manufactured goods to the central valley and bringing produce and hay from farmlands into San Francisco. Boats built here include the Alma, now a National Historic Landmark, and Jack London's Snark. IBNA strives to honor the contribution to California history made by the union shipwright's working at 900 Innes from 1860 into the 1990s.
The historic boatyard is Phase 1 of the India Basin Park design proposed by landscape architects Gustafson Guthrie and Nichol (GGN) of Seattle, Washington. Phase 2 is a complete destruction, new design, and rebuild of the existing India Basin Shoreline Park.
Proposed Phase 1 features include restoration of the Shipwright's Cottage into a café and restroom; building an approximately 25-foot wide "food pavilion" on Innes Avenue; building a "front porch" on Innes Avenue; creating a path from Innes Avenue to the water; building an event pavilion, makers space, maintenance building, restroom, and floating dock; and adding wetlands. There is a recreational bike path that takes riders along the Bay Trail. Phase 1 is scheduled to be completed by Spring 2022.
Learn more about the design: https://bcdc.ca.gov/drb/2020/0210-900-Innes-Exhibits.pdf
IBNA Concerns on Proposed Park Design: IBNA continues tosupport the long-desired park at 900 Innes as it has since 1999. That said, IBNA objects to and has voiced concern to RPD that certain other elements of the proposed design of the historic boatyard fail to protect the property in perpetuity as public outdoor recreation space and are inappropriate for this unique location:
Destroys San Francisco history. Important maritime history and education opportunities are lost by eliminating and not replacing the historic boatyard features such as windmill, marine ways, natural siding, signage, and remaining boats. IBNA was told that these elements would be replaced, but the current design has eliminated them.
Builds a wall on the waterfront. Constructing the large "food pavilion" building on Innes Avenue physically and visually separates the neighborhood from the park and water. Its purpose as a business has nothing to do with the historic maritime use or waterfront location.
Commercializes our public park. The design calls for two or three businesses in this 1.5-acre site (the equivalent would be 30 businesses in Dolores Park, where there are none). IBNA argues that park land is public open space, that should serve recreation needs. There are over 220,000 square feet of existing and planned commercial space less than ½ mile away including empty storefronts and a similar food service marketplace long planned on private property at 700 Innes.
Eliminates the dedicated Class 1 Bike Path. The Class 1 Bike Path and the Bay Trail are not the same. Because of space limitation the Bay Trail and Class 1 Bike Path interact within the historic boatyard. Elsewhere, they must separate for best access for commuting bicyclists. The Class 1 Bike Path is meant to keep bicyclists safe by creating a transit alternative for them off of Innes Avenue. The Class 1 Bike Path designated in the San Francisco Bicycle Plan extends from the park down Hudson Avenue to Hunters Point Boulevard. The Bay Trail is a recreational, scenic route around the water. Additionally, access to the Class 1 Bike Path from Innes Avenue is unclear; to be useful the Class 1 Bike Path must be accessible at all times.
Impedes safe and scenic access to and through the Park. In the park, the design indicates a 400-person capacity event space over the Bay Trail / Class 1 Bike Path. Additionally, the design suggests that commercial vehicle access to the food pavilion businesses and accessibility access travel from the parking lot at India Basin Shoreline Park via the Bay Trail / Bike Path.
Threatens the natural shoreline, flora, and fauna. The proposed design indicates a 400-person capacity event space at the shoreline, to the possible detriment of one of the few pieces of native shoreline in San Francisco, the birds, and wetlands.
IBNA is closely following both the environmental cleanup and the park design and will advise members of updates and opportunities for public input.
④ Innes Avenue and Arelious Walker Street
In 2014 San Francisco developer Build, Inc purchased about 15 acres of mainly open lots on the south edge of India Basin, on either side of Arelious Walker Street (formerly known as Fitch Street). Together with the India Basin Neighborhood Association (IBNA) and the San Francisco Recreation and Parks Department (RPD), Build, Inc has embarked on a long journey to transform a semi-wild former gravel yard into an urban village. IBNA asked for a pedestrian-first, human-scaled, bicycle-friendly, residential village where neighborhood amenities are within a short walk following the goals of our 2010 Community Vision. Much more than a development venture or park expansion, this innovative Public-Private Partnership advances the City's and community's aspirations for new housing and jobs, sea-level rise shoreline adaptation, enhanced waterfront access, expanded recreation space, public art and vital community services.
Generally called the 700 Innes project, Build, Inc has received planning approval for a mixed-use development to include a mixed-use urban village made up of 1,575 residential units (over 30% affordable), approximately 200,000 square feet of commercial space, a public library, a child care center, approximately 15.5 acres of publicly accessible open space connecting to existing park spaces, and up to 1,800 parking spaces. Running through the development is a Class 1 Bike Path connecting to the Blue Greenway and Bay Trail networks.
In 2020 Build, Inc is busy obtaining permits and approvals from myriad agencies and designing the infrastructure as the site will need completely new water, sewer, power, and other utility systems. Construction is expected to begin in spring 2021.
Learn more: http://bldsf.com/blog/2016/4/18/india-basin
IBNA is closely following the 700 Innes project and will advise members of updates and opportunities for public input.
⑤ Innes Avenue between Earl Street and Donohue Street
The land between Innes Avenue east toward Galvez Avenue is known as Block 1 of Parcel A of the Hunters Point Shipyard. Ownership of Parcel A has transferred from the U.S. Navy to the City of San Francisco. Development rights for Block 1 were won by the Tabernacle Group, a community-based group, to create a mixed residential and commercial project.
IBNA Concerns on Block 1: As of May 2020, the developers of Block 1 have not shared designs with the public. However, even without knowing the design specifics, IBNA is advocating for the following:
Saving the palm trees
Continuing the Class 1 Bike Path through the property to connect from the Build, Inc property, directly next door, into the Shipyard
Keeping clear visual connections between the street and the open space so that this project does not create a wall between the Shipyard and the existing community
Carefully designing the rooftops as it will impact everyone living uphill from the site
Galvez Avenue was the driveway that led to the much-missed Dago Mary's Restaurant. The IBNA Community Vision calls for Galvez to become the designated Class 1 Bike Path. The land from Galvez to the Bay is a portion of Parcel B of the Hunters Point Shipyard and remains under U.S. Navy ownership. Once transferred to the City of San Francisco, it is designated to become a public park, with the working name of Northside Park. The 100 feet closest to the water will become a piece of the regional Bay Trail.
IBNA is closely following the Block 1 project and will advise members of updates and opportunities for public input.
Questions or Additions
The India Basin Neighborhood Association welcomes questions, corrections, or additions about any of the projects mentioned here: Use the Contact Form