311 Reports Are Important
Really, really important.
San Francisco Department of Public Works (DPW) assigns resources based on 311 reports. Places with low reporting get fewer resources. It's that simple. DPW does not have the ability to patrol our neighborhoods and decide where to allocate custodial crews; they rely heavily on the 311 data.
According to sf311.org, in 2020 India Basin and larger Bayview received much fewer 311 requests than other SF neighborhoods. In the heatmap below, green shows very few requests and red, a high number of 311 requests. So let's make some data.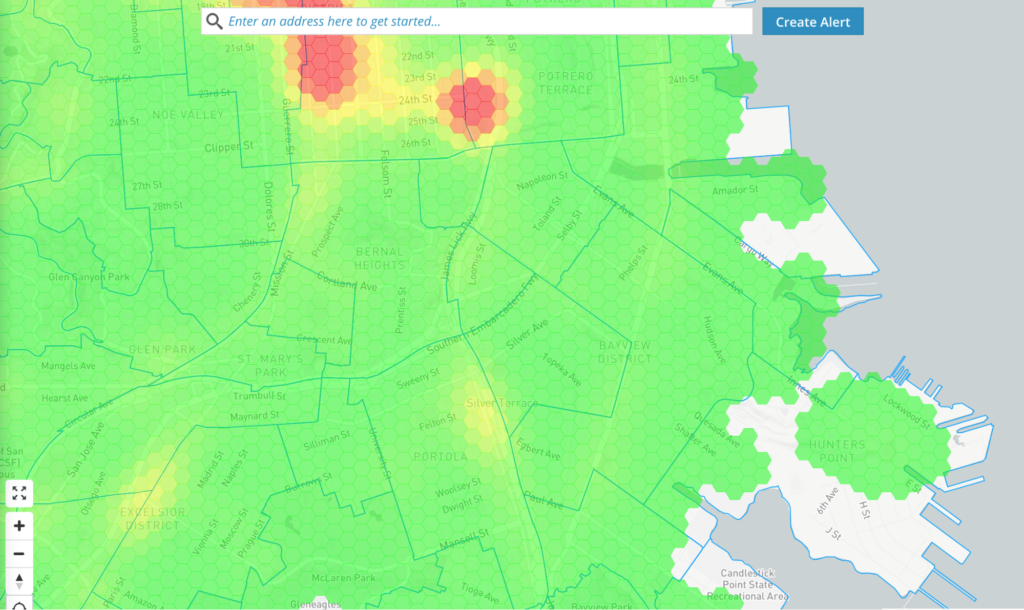 Get The App
Don't have a smartphone? No problem – you can call 311 to report issues. The same tips for making a report apply, just jump to the "Making a Great 311 Report" section.
If you have a smartphone (Apple iPhone, or a smartphone with Android), the easiest way to 311 is to download the app. There are a lot of 311 apps, so make sure you get the one for San Francisco. It has an image of the Golden Gate Bridge on it.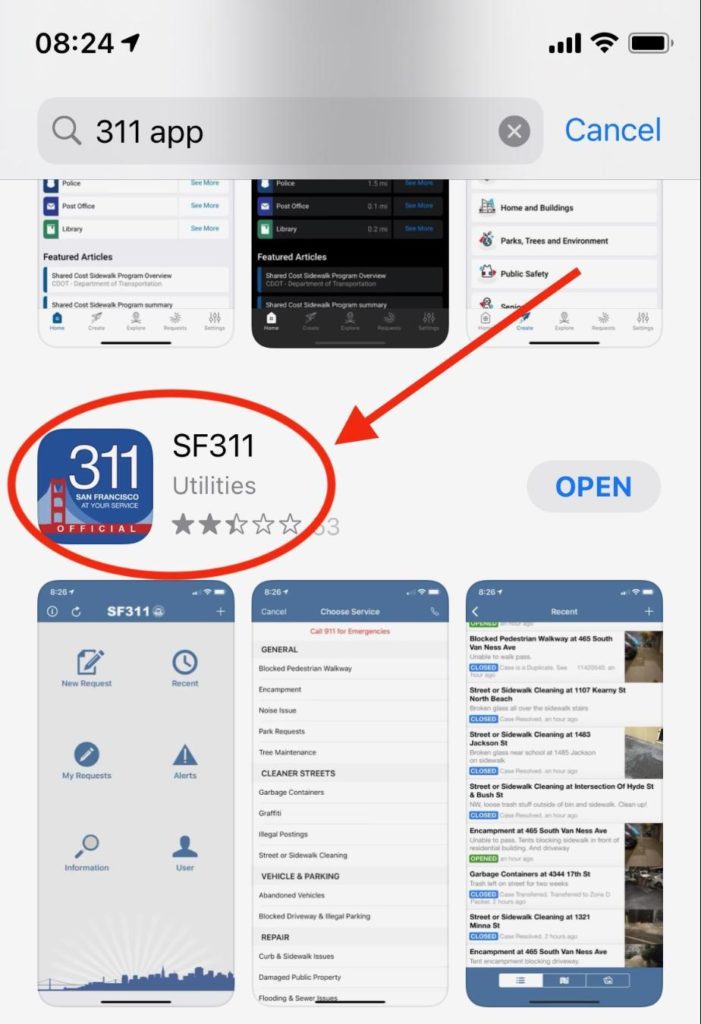 Set Up Your Account
Why you do this: Your account includes your address, which is critical data for DPW. It also includes your telephone number, in case DPW needs to contact you for clarification. It's rare that DPW tries to contact you, but this has happened a couple of times for me.
In addition to creating your account on the phone, you can also sign up for one on the 311 website: https://sf311.org/
Make a Great 311 Report
Stay Safe
You can make a 311 report in the app from anywhere, you do not have to do it at the site. If you feel unsafe using your phone at the site, that's OK. If you are able to get a picture, you can make the report later, when you are in a safe place.
Key Things to Include
A picture. Try to include an obvious landmark, such as a street sign, or a public garbage can, or something that clearly identifies the place. Note: You can take a photo with your camera and add it in the app later, in case you feel unsafe making a 311 report at the site.
A clear description. Try to be as comprehensive as possible, without overstating. You want DPW to understand the nature of the problem, so they can send the right kind of crew. For example, "armchair" or "pile of household garbage" or "miscellaneous car parts" are good descriptions. If you suspect that the refuse includes human or animal waste, it is important to say so. If you see sharps, like used needles, it is important to say so. Please respect and protect our DPW partners.
A size estimate. If it's a pile of garbage, say it's "6' x 10' x 2'". This tells DPW whether they need to send a crew, or if a single person can handle the issue.
A weight estimate (optional). If it looks heavy, say so.
A clear description of the location. If you're using the app, your smartphone's GPS will try to locate you. But this isn't always accurate. In your description, include instructions to help crews locate the problem, like "in the 600 block of Innes". Or, "piled near the public garbage can at the bottom of the stairs at Arelious Walker and Innes".
The clearer the description, and the more accurate the location, the sooner DPW can deal with the issue. If DPW sends a single person to tackle a problem that requires a crew of three or if they send a pick-up truck when a large garbage truck is needed, they can't resolve the issue. In some cases, these issues get closed as "resolved" even though they aren't.
Here's a recent example of a description:
"Armchair dumped on the side of the road. About 4' x 4' x 3'. In the 600 block of Innes, on the side of the street nearer the water. Near the corner of Earl & Innes."
In the App
Tap "New Request" or the "+" sign to start a new request:
Choose the type of service. Most of my reports are "Street or Sidewalk Cleaning":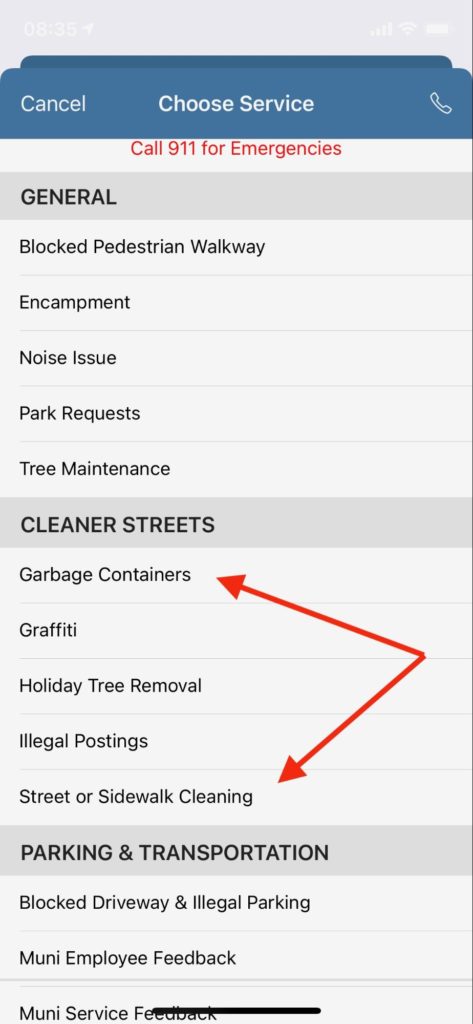 Add a photo. You can take a photo now, or you can use an existing photo you took earlier:
Add a description. Make sure to describe the location, size, and weight if it looks heavy:
Indicate the type of object. You do not have to be super accurate. My reports are mostly "Other Loose Garbage / Debris":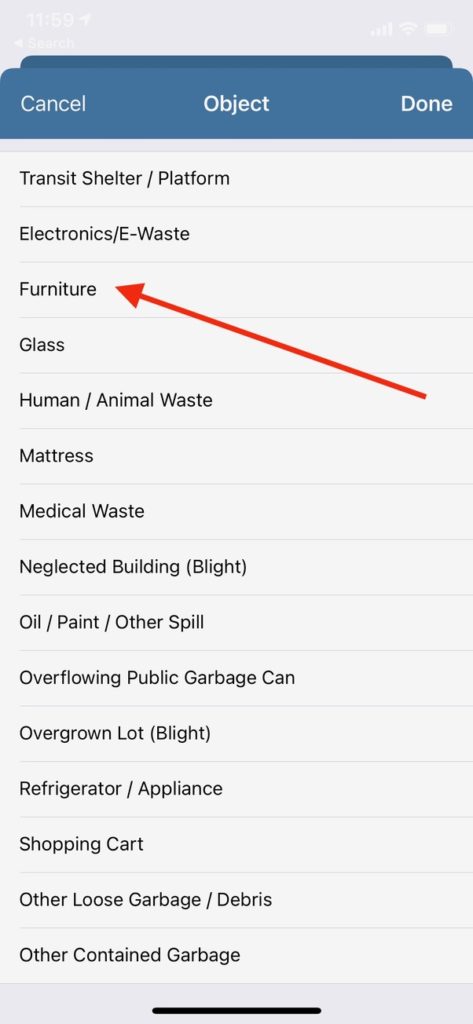 Tap Submit – you're done!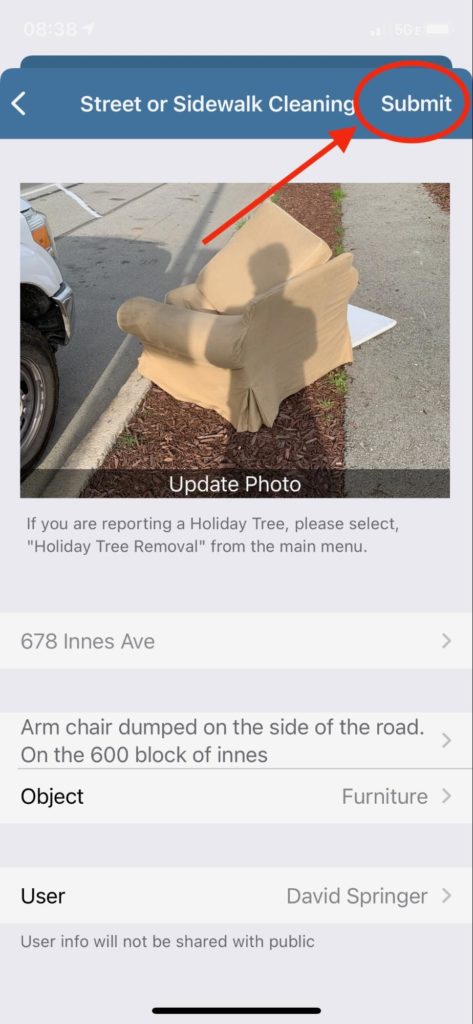 On the Phone
Write down your case number! You will need this later in case you want to follow up with Pres. Walton's office.
Follow Up
President Walton's office has committed to help us follow up on 311 reports. If your issue is not resolved within 3 days of if you notice that your case was marked "resolved", but the issue is clearly not resolved, you can escalate the issue to Pres. Walton's Office (see below for email addresses).
Find Your Case Number
Tap "My Requests" > Tap on the request > Write down the case number: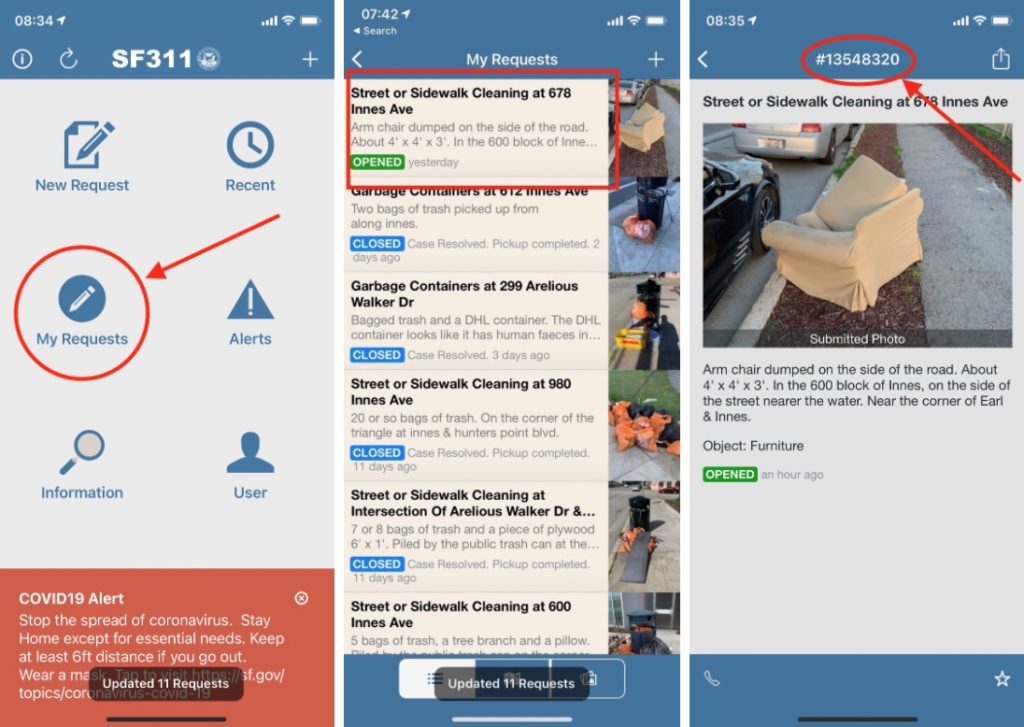 Send email
Send an email with your case number, a description and any supporting photos to abe.evans@sfgov.org and natalie.gee@sfgov.org