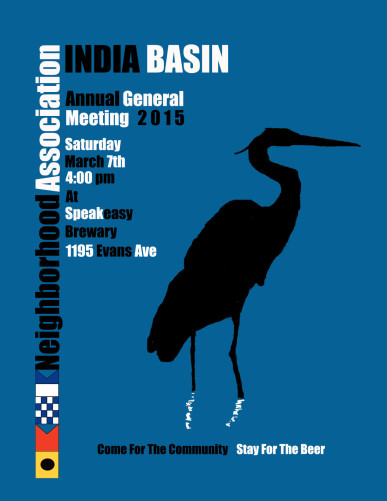 SAVE THE DATE!
Saturday, March 7th, 4:00 pm.
The India Basin community will be gathering at Speakeasy Brewery for our annual general meeting.
We will celebrate our year of accomplishments, as well as look forward to the big changes in our community; like 200 new units in the Shipyard and the folks that will be moving into them this Spring. (Hurray new neighbors!)
So come out and enjoy each others company, sip and savor local Speakeasy beer (and root beer), and…..elect 3 new Board Members while you at it!
Seats up for Election:
Seat 7: Richard Laufman (running for re-election)
Seat 8: Steve LaPlante (running for re-election)
Seat 9: Brian Stott (stepping down to focus on membership recruiting)
Come out and join us!